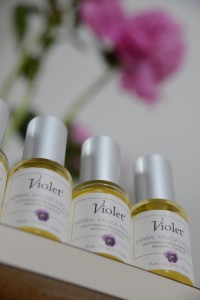 The VIOLET difference
Created in 1975
SIMPLE, PURE, FRESH, ORGANIC for THE BEST RESULTS
World renowned master facialist and skin care expert, Violet Mkhitaryan, is the driving force behind the groundbreaking Violet skin care brand. Known for their all natural product creations and skin care regimens, the Violet team philosophy is a holistic approach to preserve youthful looking skin by using regenerative and restorative active ingredients and essential oils.
VIOLET PRODUCTS
Violet's modern approach to improving the skin's appearance is to combine live properties from foods, oils and herbs using no preservatives or chemicals. Violet and her daughters meticulously select the freshest ingredients that maximize the effectiveness of the luxurious products. Their best-sellers include the Violet yolk mask (known as the instant skin lift), the chocolate mask (one of Violet's first formulations), and dry masks like the flax seed or fenugreek (essential in treating rosacea and acne).
Violet fresh & simple ingredients are bio-compatible with our skin, they absorb fast and deliver amazing results!
Violet products are made fresh in small batches weekly in our Boston laboratory, so only fresh, pure products are used each time to deliver targeted results.
meet VIOLET
Violet is a working eathetician at our flagship Boston spa, and loves nothing more then doing facials and interacting with her amazing clients! Violet loves educating and is looking forward to meeting you and your staff at your next event or training session.
VIOLET FACIALS
Winner of multiple national and local awards, Violet facials deliver proven results. Violet's acne program, rosacea facials , Yolk & Chocolate facials and Seabuckthorn facials are deigned to treat, hydrate, tone & pamper. If you are interested in offering Violet signature facials & products at your spa please contact us.
Rousanna Gevondian
617-264-7546
send email