Violet freshly hand-blended natural products are used in every facial.
Encourage your skin's naturally designed healing and renewing abilities with Violet's carefully hand blended remedies.
Violet designed facial treatments incorporate thorough gentle extraction and Violet signature massage throughout our skin care services. Your Violet esthetician will customize each treatment to address your specific and changing needs.
Depending on level of extractions required many facials range from 60-75 minutes.
Face massage is excluded on deep pore/acne and teen facials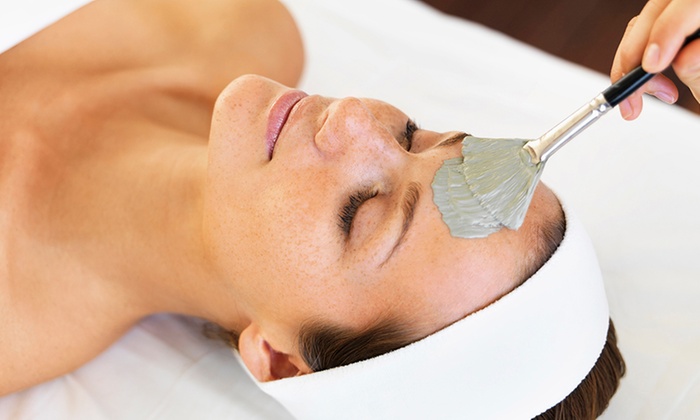 New // VIOLET FACIAL REJUVENATION ACUPUNCTURE Treatment
This holistic treatment will elevate your skin and whole body to new heights. Your acupuncturist will tailor each treatment to address your specific and changing needs. Treatment begins with light rose/chamomile toner infused sheet mask in skin preparation while needles are applied to parts of your body to improve whole health and address underlying issues, followed by gentle application of acupuncture needles in specific areas—crows feet, lines around the mouth, lines on the forehead to improve the appearance of fine lines, improve muscle tone, and firm the jaw line. It is very effective in reducing the signs the aging process, which helps your body look & feel younger. This treatment is designed for you to improve circulation and stimulate your body's anti-aging powers by rejuvenating skin cells, stimulating collagen, rebuilding elasticity to renew the face, as well as the whole body. It also helps reduce puffiness, allergy, calm rosacea and acne. Radiant rose face oil, Violet face cream and jade roller massage completes this treatment. Prepare to glow!
Initial appointment   90 minutes $180, follow up treatments 75 min $150
We suggest a series of eight to ten treatments for ultimate wellness results
READ MORE http://violetskinboutique.com/violet-facial-rejuvenation-acupuncture-treatment/
ROSE/GINSENG FACE & NECK TREATMENT
After a summer of sun + swimming, treat your skin to a skillful recovery. Combining the most powerful ingredients, like rose powder, ginseng extract, essential healing oils and algae our new Rose youth mask carefully applied on a cotton sheet mask will infuse essential hydration and nutrients into the layers of your face & neck, while stimulating collagen production, balancing skin tone, deeply hydrating and promoting cell turnover. Exfoliation, extractions and deep face, neck & decollete massage are a part of this treatment.
Perfect for repairing sun damage, our radiance treatment leaves your skin firmer, brighter, and smoother for a more youthful appearance
60-75 minutes for 115
Recommended for dehydrated, normal, mature,dry, stressed, sensitive
DEEP PORE CLEANING/ACNE FACIAL/TEEN
Violet has been successfully treating teen and adult acne and problematic skin drawing on decades of result-oriented aesthetics and lab experience
This effective, deep cleansing treatment is designed to combat congestion and inflammation. Thorough yet gentle pore extractions will clear up every pore from congestion, blackheads and milea. Hand blended soothing herbal or fenugreek mask is applied to soothe your skin, minimizing pores and balancing skin tone. Daily home maintenance will be discussed to further balance and heal your skin.
75-90 minutes for 115-135/ TEEN 60min. 85
ORGANIC FLAX SEED/FLOWER MIST FACIAL
The perfect facial for sensitive skin, dehydrated skin & rosacea. This comprehensive treatment includes manual exfoliation, gentle extractions, Violet Signature facial massage, and a specialty freshly prepared reparative, soothing and calming organic flax seed or flower mist mask. Polish it all off with an out-of-this-world massage entwined every step of the way. Regenerative serums/sheet mask concludes this treatment, deeply hydrating and plumping skin
60 minutes for 105
Recommended for dehydrated, dry, stressed, sensitive, rosacea
ORCHID MOISTURE FACIAL
It starts with gentle exfoliation that works magic by removing surface impurities, while it perfects the skin surface. Extractions follow to clear out pores and blemishes. Ultra hydrating Orchid Moisture Mask is applied reawakening, reenergizing and deeply hydrating your skin. Combined potent red algae (packed with minerals) and essential perfecting oils, orchid extract, it visibly refreshes your skin, making it healthy and balanced. Facial is finalized with luxurious Violet signature massage.
60-75 minutes for 120
Recommended for any skin type, including sensitive, rosacea, dry, normal, oily
YOLK /CHOCOLATE INSTANT SKIN LIFT FACIAL
This dynamic facial journey will elevate your skin to new heights. Great immediate results! This powerful anti-aging facial based on our famous cold masks Yolk/Chocolate/Honey Jasmine/Seabuckthorn (depending on your skin needs) deeply nourish, lift and tighten skin, instantly revealing a smoother, lifted and toned, youthful complexion. Moderate on extractions; heavy on the sculpting and toning face, neck & décolleté massage. Prepare to glow!
60-75 minutes for 125
Recommended for any skin type, especially mature, dry/dehydrated
ALMOND BRIGHTENING FACIAL
Our specialty facial, serves up a cocktail of mandelic/salycilic acid and power antioxidants custom mixed for the specific needs of your skin. These powerful mask accelerates cell turnover to strengthen collagen and reverse damage caused from aging and sun exposure. It sloughs away the dull, dead cells and provides a multitude of benefits ranging from lightening discoloration and signs of hyperpigmentation to softening lines and wrinkles and treating acne. Treatment includes a revitalizing facial massage, extractions when needed, and plenty of pampering.
60-75 minutes for 115
Recommended for any skin type, including problematic, sun-damaged, or hyperpigmented.
ADD-ON OXYGEN INFUSION TO FACIALS -extra 25
ADD-ON PEEL TO FACIALS -extra 35
VIOLET BODY TREATMENTS 
All body exfoliants, masks and oils used in body treatments are handmade and freshly prepared for your visit.
BODY POLISH
This luxuriously scented body treatment reconditions the texture and tone of your skin. Gently exfoliate and deeply moisturize your skin with delicate Brown Sugar crystals and a nourishing blend of Ayurvedic Oils. The aroma – sensual Vanilla with Zesty Orange blossom – heightens your senses, enlivening the body and mind. Skillfully performed by our highly trained therapists in circular massage movements, this treatment is a completely rejuvenating experience.
30 min 65
VIOLET THERAPEUTIC MASSAGE
Violet Therapeutic Massage is done using long strokes and incorporating Swedish, Deep tissue and Trigger point therapy techniques to relieve tension, improve circulation, relax body and mind, reduce stress and muscle stiffness. Pressure and areas of focus are adjusted to your individual needs. If you have a special request, please mention it at the time of reservation 
60 min 95
90 min 120
WAX & TINTING
We exclusively use French Butter  or Azulene Wax, specifically formulated for sensitive skin. This hard wax moisturizes skin as it removes all hair from the most sensitive areas and is less painful than any other was on the market.
BROW DESIGN BY VIOLET 35
LIP/CHIN 10 each
FACE WAX (EXCLUDING BROWS) 40
FULL ARMS 50
UNDER ARMS 25
BACK from 55
FULL LEGS 85
HALF LEGS 45
REGULAR (BIKINI LINE) 35
FRENCH BIKINI 40
BRAZILIAN BIKINI 65
BROW TINTING 35
EYELASH TINTING 45